NEWS
TROPHY CAMERA V0.95 AT HOW TO WIN AT PHOTOGRAPHY – IMAGE-MAKING AS PLAY: FOTOMUSEUM WINTERTHUR
How to Win at Photography – Image-Making as Play explores the relationship between photography and play. It investigates the notion of image play, creating unexpected connections between the history of photography, the gamification of the visible as well as practices of image making with and within computer games.
With works by: Cory Arcangel, Aram Bartholl, Dorothée Elisa Baumann, Justin Berry, Julius Brauckmann, Alan Butler, Claude Cahun, Cibelle Cavalli Bastos, Dries Depoorter & Max Pinckers, Philipp Dorl, Constant Dullaart, Harun Farocki, Christopher Graves, Aneta Grzeszykowska, Beate Gütschow, Jon Haddock, Emily Hadrich, Florence Henri, Roc Herms, John Hilliard, Yuyi John, Rindon Johnson, Andy Kassier, Sherrie Levine, Gloria López Cleries & Sive Hamilton Helle, René Mächler, Taiyo Onorato & Nico Krebs, Joan Pamboukes, Steven Pippin, Michael Reisch, Tabor Robak, Ria Patricia Röder, Lorna Ruth Galloway, Ed Ruscha, Emma Agnes Sheffer, Cindy Sherman, Guido Segni, Andrew Stine, Petra Szemán, Akihiko Taniguchi, Danielle Udogaranya, Coralie Vogelaar, Tamás Waliczky and Ai Weiwei.
Running until 10 October 2021
Fotomuseum Winterthur, Grüzenstrasse 44 + 45, CH-8400 Winterthur
THE FOURTH WALL AT RE-COLLECT: FOMU ANTWERP
Dirk Braeckman, Bieke Depoorter, Boris Mikhailov, Max Pinckers, Annemie Augustijns, David Claerbout, Jacques de Lalaing, Kimbei Kusakabe, Zanele Muholi, Vincent Delbrouck, … These are just a few of the photographers from whom FOMU has purchased work for its collection over the past 10 years.
"re-collect takes you on an associative walk through a decade of collection of acquisitions. We opt for a non-chronological arrangement, which creates new connections between the works. Three focus points run through the collection acquisitions as the common threads: a focus on Belgian photographers, on internationally socially relevant photography and a clear connection with our exhibitions. At the same time, the exhibition offers a glimpse into the collection's past, present and future."
Running until 7 November 2021
FOMU Antwerp, Waalsekaai 47, 2000 Antwerp
FOMU TRIGGER: UNCERTAINTY, GUEST-EDITED BY THE SCHOOL OF SPECULATIVE DOCUMENTARY
The new issue of FOMU's Trigger magazine: UNCERTAINTY, guest edited by Michiel de Cleene and Max Pinckers on behalf of The School of Speculative Documentary is now available.
What if we allow speculation, messiness and befoggedness to set the conditions for documentary gestures and practices? Contemporary documentary practice has a crucial role to play within art, mainstream media and activism. It constitutes less a genre, and more "a critical method" in its own right. How can we rethink the documentary attitude conceptually, formally and methodologically? Uncertainty has become documentary's given. What if this unfinished business of the documentary creates even more possibilities for speculation and imagination? How can we make decentralized, deformatted and polycentric documentaries, even if we assume that we will never fully succeed?
Trigger nr.2 on the issue of UNCERTAINTY is made in collaboration with The School of Speculative Documentary (associated with KASK & Conservatorium / School of Arts Gent in Belgium) and FOMU (Photography Museum, Antwerp). With contributions by Liz Orton, Petra Van Brabandt, T.J. Demos, Duncan Forbes, Youqine Lefèvre, Mathew Kneebone, Georges Senga, Hoda Afshar, Fred Ritchin, Liz Orton and Wilco Versteeg, amongst others.
FEATURED ON THE COVER OF 'THE PHOTOGRAPH AS CONTEMPORARY ART'
A new edition of the definitive title in the field of contemporary art photography by one of the world's leading experts on the subject, Charlotte Cotton.
The Photograph as Contemporary Art introduces the extraordinary range of contemporary art photography, from portraits of intimate life to highly staged directorial spectacles. Arranged thematically, the book reproduces work from a vast span of photographers, including Andreas Gursky, Barbara Kasten, Catherine Opie, Cindy Sherman, Deana Lawson, Diana Markosian, Elle Pérez, Gregory Halpern, Lieko Shiga, Nan Goldin, Paul Mpagi Sepuya, Pixy Liao, Susan Meiselas, and Zanele Muholi. This fully revised and updated new edition revitalizes previous discussion of works from the 2000s through dialogue with more recent practice. Alongside previously featured work, Charlotte Cotton celebrates a new generation of artists who are shaping photography as a culturally significant medium for our current sociopolitical climate.
The Photograph as Contemporary Art by Charlotte Cotton, Thames & Hudson, 2020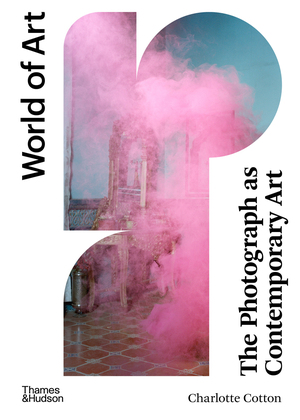 'HOPEN OP DE GODEN: MAX PINCKERS'


VRT/Canvas © 2018
'MARGINS OF EXCESS TRAILER'

SELECTED ONLINE PUBLICATIONS
The Photograph as Contemporary Art by Charlotte Cotton, Thames & Hudson, 2020 / Cover image
image/con/text: Documentary Practices Between Journalism, Art and Activism
Ostkreuzschule (Berlin) .lab fotoblog / Ein schönes Bild – Teil 1
Nearest Truth Podcast / A conversation between Brad Feuerhelm and Max Pinckers
SPE-MNF / Max Pinckers's Presentation at the SPE-MNF Photography Education Symposium, Delhi, India, January 2020 on YouTube
Paola Rigamonti / Documenting Reality in the Digital Age
Aesthetica Magazine / Illusory Narratives: Interview with Sarah Allen
Museé Magazine / Triggered!: Max Pinckers
Leica Vietnam / Photography Talkshow 'Vision, Approach and Portfolio by Max Pinckers' on YouTube
Unseen Platform / Red Ink - Max Pinckers
LensCulture / Book Review: The Only Thing You Can't Get Is Red Ink
photo-eye Blog / Book of the Week: Selected by Owen Kobasz
50mm Vietnam / Nhập môn ảnh bộ với Max Pinckers cùng Leica Vietnam
Female Magazine Singapore / Max Pinckers: The Artist Questioning What We Know Of Photography
The Westphoto Podcast / PISODE 11: Interview with Max Pinckers
Punto De Fuga / Max Pinckers, Palimpsesto, 2019
British Journal of Photography / Photo London 2019
Collector Daily / Max Pinckers, Red Ink
Scena 9 / Să fotografiezi minciuni, ca să înțelegi mai bine adevărul
Photolux Festival / Il Doppio Specchio Di Pinckers. Ambiguità Dell'immagine, Ambiguità Del Reale
Chosun / "아직도 궁금해요, 그날 평양은 과연 진짜였을지"
photo-eye / Best Books of 2018
AnOther Magazine / A Hyperreal Look at Everyday Life Inside North Korea
Leica Camera / LOBA 2018 Winner Max Pinckers
LensCulture / Margins of Excess
IGNANT Magazine / America's Post-Truth Era, Captured By Max Pinckers
GUP Magazine / Margins of Excess & Red Ink
Revista Old / Max Pinckers: Margins of Excess
Huck Magazine / A photographer's portrait of America in the post-truth era
American Suburb X / Max Pinckers Interview: On Speculative Documentary
British Journal of Photography / Max Pinckers tracks the Margins of Excess between truth and fiction
Libération / Le succès de l'imposture, vu par Max Pinckers
JOIA Magazine / Entrevista a Max Pinckers: "Quiero que la gente se plantee como las imágenes les hacen creer en algo que puede no ser verdad"
Yogurt Magazine / Margins of Excess by Max Pinckers
Clavoardiendo Magazine / Max Pinckers gana la primera convocatoria de GETXOPHOTO con Un trabajo sobre noticias falsas
It's Nice That / Private detectives and helium balloons: photographer Max Pinckers steps into five imagined realities
Collector Daily / Max Pinckers, Margins of Excess
C41 Magazine / Reality and fiction have become the same thing: the six stories of Max Pinckers
Witness: World Press Photo / The camera that produces perfect pictures
Leica Fotografie International / Pinckers trifft auf Bischof
The Heavy Collective / Q&A: Max Pinckers – Margins of Excess
PHmuseum / A Documentary about Imagination
CNN Stlye / How photographers use lies to expose the truth
Self Publish, Be Happy / Margins of Excess by Max Pinckers
BRUZZ Magazine / Max Pinckers: Deus ex Magnum
Rivista L'Espresso / Pyongyang, la vetrina di grattacieli e smartphone del regime nordcoreano
Revista Globo / Um retrato da Coreia do Norte como ela é: uma peça de publicidade
American Suburb X / Trophy Camera: A New Fear of Organizing Principals
The New Yorker / The Risk of Nuclear War with North Korea
British Journal of Photography / Book: Lotus by Max Pinckers and Quinten de Bruyn
Petapixel / This AI-Powered Camera Only Shoots 'Award-Winning' Photos
Co.Design / This Camera Silently Judges Your Photos Against The World's Best
VICE Magazine / Met deze camera schiet je altijd een World Press Photo-waardig plaatje
Magnum Photos / Finding Your Documentary Photography Style
De Tijd / De realiteit bestaat niet
Polka Magazine / Après Hokusai et Jeff Wall, le Japon raconté par Max Pinckers
Collector Daily / Lotus, by Max Pinckers and Quinten De Bruyn
THISISPAPER / Max Pinckers: Two Kinds of Memory and Memory Itself
TIME Lightbox / Truth and Fictions in Everyday Japan
Creative Boom / New Blood. Superb works from some of the world's best emerging photojournalists
Aperture / From the Outside In by Stanley Wolukau-Wanambwa
The Culture Trip / Max Pinckers: A New Approach To Documentary Photography
Rivista Studio / Love Commandos
Vice / Two kinds of Memory and Memory Itself
L'Oeil de la Photographie / 2015 Magnum Nominees: The Future of Photojournalism
Canvas / De Rebellen
TIME Lightbox / Magnum Photos Adds Record-Breaking Number of New Members
The New Yorker / Love in India
The Daily Observer / Chobi Mela: A carnival mood engulfs city
Paper Journal / Lieko Shiga's RASEN KAIGAN | album, selected by Max Pinckers
Caravan Magazine / At First Sight
The Guardian / India's Love Commandos – and the runaway couples they protect
Tasveer Journal / Book Review: Will They Sing Like Raindrops or Leave Me Thirsty
The Indian Express / A Song of Love
Financial Times / Self-publishing: DIY photography books are the rage
H-ART Magazine / Max Pinckers en Gauthier Oushoorn filmen hun tentoonstelling
FT Magazine / Self-publishing: DIY photography books are the rage
Colin Pantall's blog / Documentary Photography and the Dinosaurs
Photobook Store Magazine / Control Order House by Edmund Clark, reviewed by Max Pinckers