NEWS
THE FUTURE WITHOUT YOU BY MAX PINCKERS & THOMAS SAUVIN
For this collaboration, Max Pinckers and Thomas Sauvin rummaged through 50.000 transparencies rescued from a recycling center in Beijing. This analog archive from the 1990s consists of stock photos that were produced in the US and ended up in China when a company subsidiary was opened to market them in a new territory.
The images in this archive cover a wide array of subjects, themes, and photographic styles. They were made with the sole intention of being purchased or licensed for nonspecific contexts. They represent an era of advertising when high-quality, generic visuals would be adopted by companies to avoid the expense and effort of arranging custom photoshoots.
With stock photography embodying the most capitalist form of imagery, Pinckers and Sauvin focused their selection on the world of corporate business, represented by actors of limited talent during a time of anxiety triggered by the arrival of the personal computer and the rise of the Internet.
Reconsidered 30 years later, there is something amusing—but also disturbing, even prophetic—about these images, which seem to have lost none of their relevance with the dawn of artificial intelligence.
Published by Beijing Silvermine & Lyre Press
Graphic design by Ying Lei
Hardcover, 160 x 220 mm, 222 pages
Edition of 800 copies
ISBN 9782957011810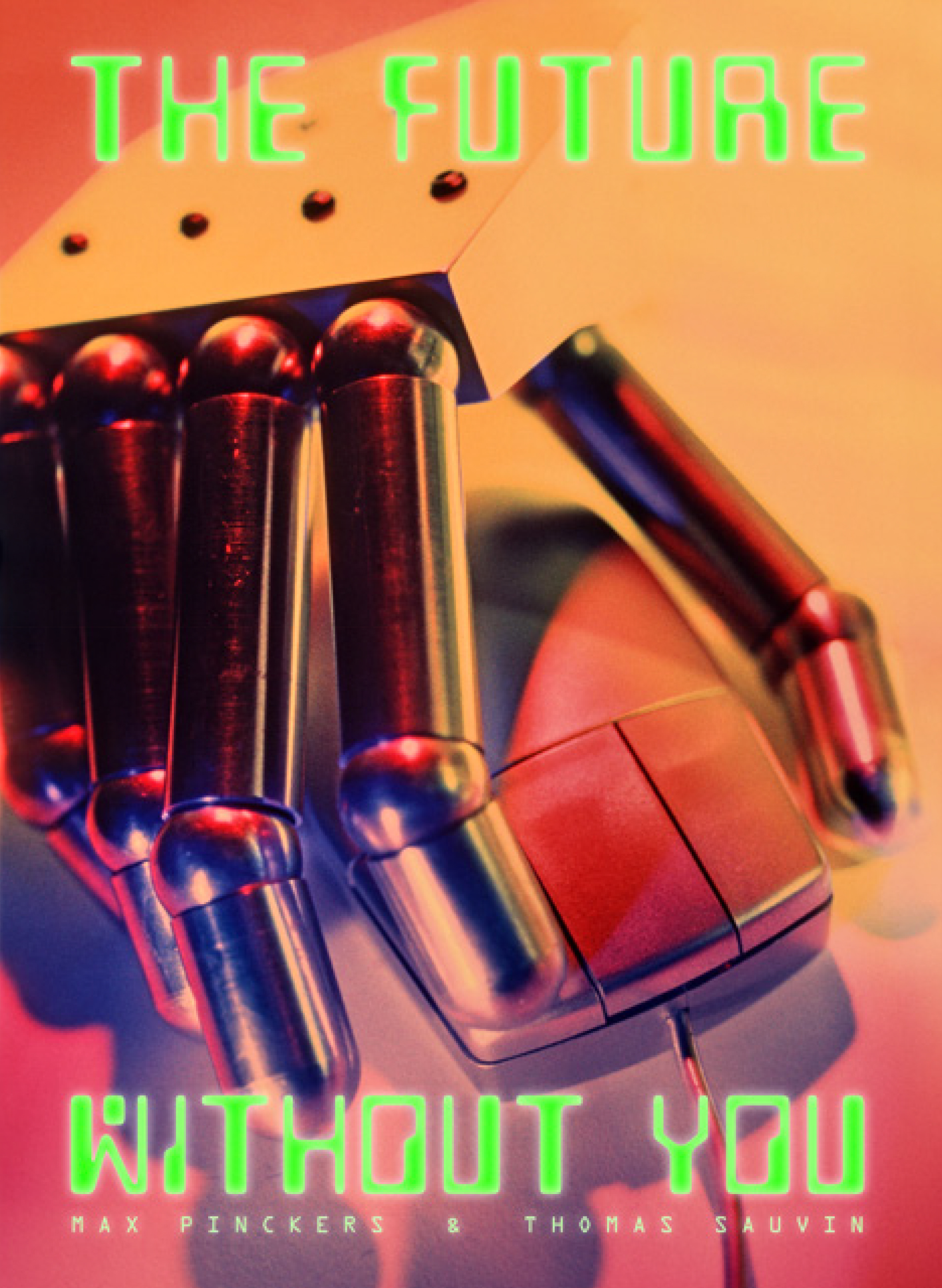 STATE OF EMERGENCY ON THE ELEPHANT
The Elephant / Unhistories, Part I – Kenya's Mau Mau: A Walk Through the Archives
The Elephant / Unhistories, Part II – Kenya's Mau Mau: Detention Camps and Torture
The Elephant / Unhistories, Part III – Kenya's Mau Mau: Resistance, Mass Graves and Compensation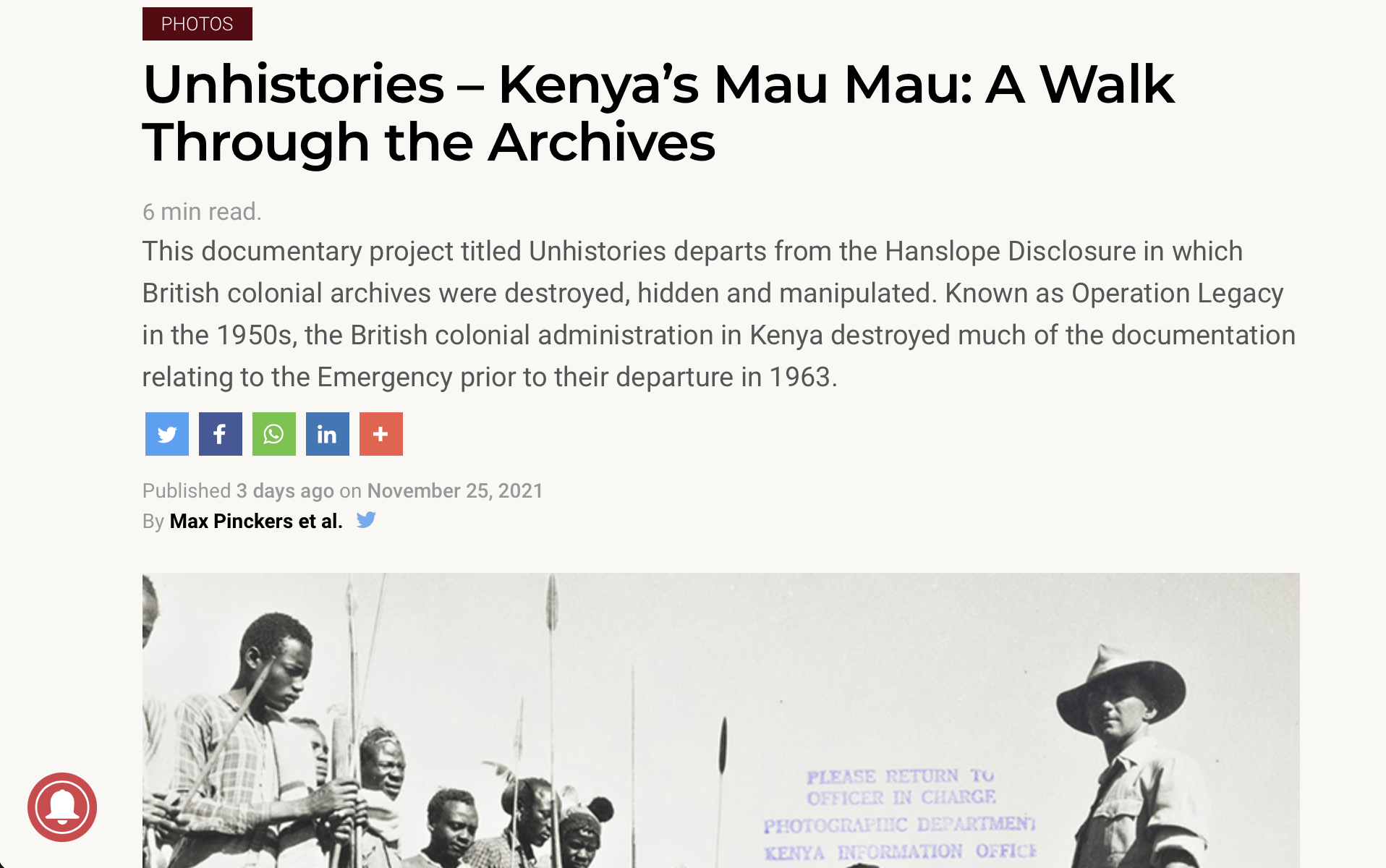 MAX PINCKERS BY HANS THEYS, HANNIBAL BOOKS
This trilingual book marks the culmination of ten years of collaboration between the photographer Max Pinckers and the writer Hans Theys, who was given permission to use a personal selection from all of Pinckers' photographs to create a classic photobook without having to take into account their original context. The publication also contains an essay in which Theys discusses Pinckers' oeuvre based on thoughts by Susan Sontag.
Hans Theys (b. 1963) has written and designed more than fifty books about the work of contemporary artists and has published hundreds of essays, interviews and reviews in books, catalogues and magazines. All these publications are based on collaborations or conversations with the artists in question.
Hannibal Books
27 x 22,2 cm, 324 pages, softcover with flaps, quadrichromy
Trilingual edition English-Dutch-French
ISBN 978 94 6388 782 3
€ 49,95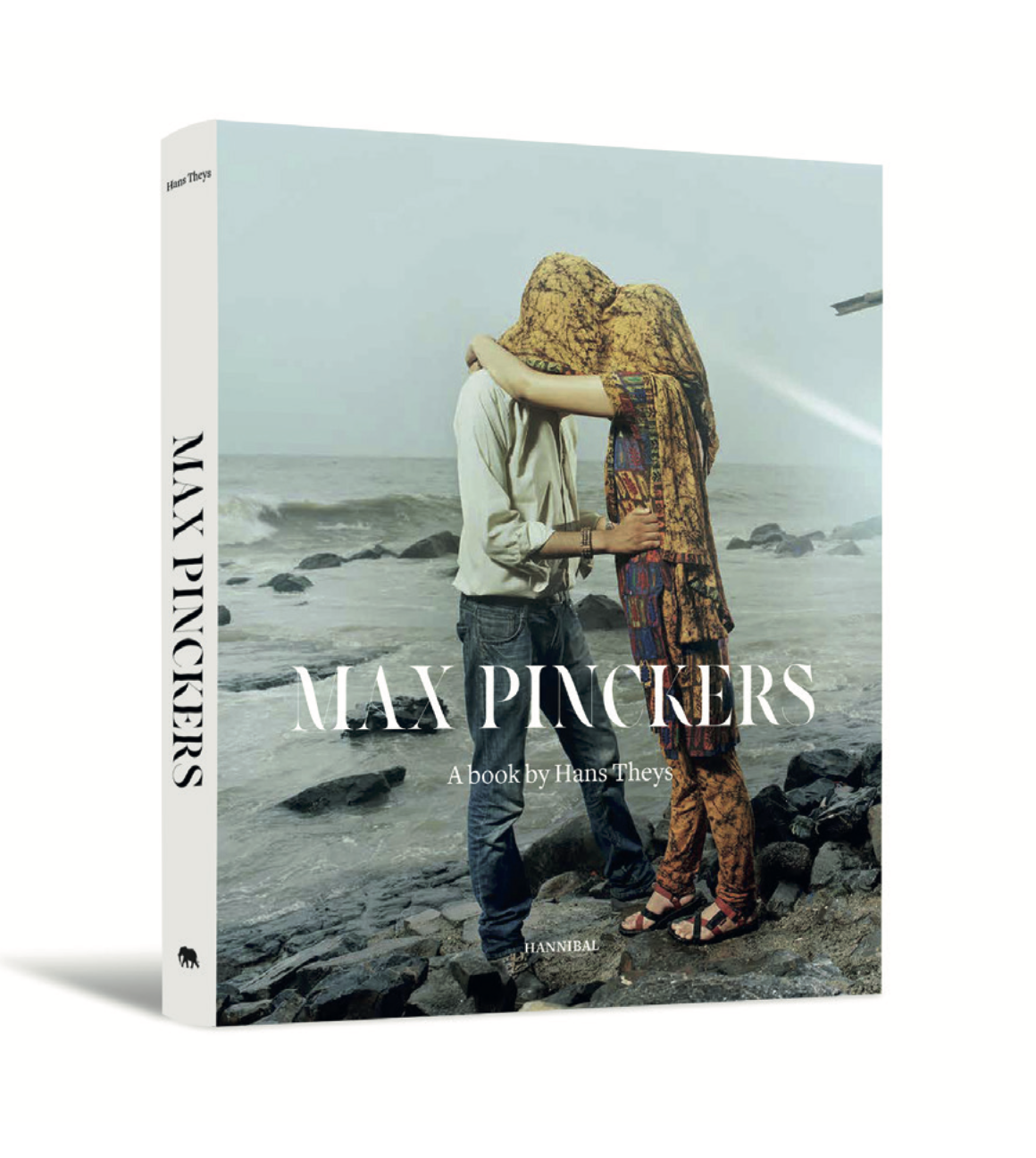 DOUBLE BIND, FOMU - FOTOMUSEUM ANTWERP

HOPEN OP DE GODEN: MAX PINCKERS, CANVAS TELEVISION


VRT/Canvas © 2018
MARGINS OF EXCESS TRAILER

SELECTED ONLINE PUBLICATIONS
The Courtauld / State of Emergency – Harakati za Mau Mau kwa Haki, Usawa na Ardhi Yetu
Mattatoio / Fotografia. Olivia Arthur, Antonio Biasiucci, Max Pinckers, Alfred Seiland Per Roma
The Paper / 摄影师|当照片不能启发灵感,就变成一种熟悉却陌生的客套话
Light Leaks Festival / Episode 11 - Guest: Max Pinckers
Membrana / Vsi Potrebujemo Slike Iz Preteklosti Intervju Z Maxom Pinckersom
The New Yorker / Max Pinckers's Spectacular World Cup
The New Yorker / At Qatar's World Cup Where Politics and Pleasure Collide
The New York Times / How to Recycle a 14-Story Office Tower
Scaffold Podcast / Max Pinckers
British Journal of Photography / Ones to Watch through the years: Where are they now? With Max Pinckers, Diana Markosian and Kennedi Carter.
British Journal of Photography / Give and Take: Hamburger Kunsthalle's latest exhibition poses questions for the 'retinal era'
Musée Magazine / Exhibition Review: Max Pinckers - Double Bind
Frieze / The Five Best Exhibitions in Europe Right Now
e-flux Announcements / Currency: Triennial of Photography Hamburg
Frieze / Max Pinckers's Fantastic Fictions
De Standaard / Forse injectie voor Vlaamse kunstcollectie
Telex / A következő észak-koreai képek mindegyike attól igaz, hogy hamis
Radio 1 / Culture Club
Metropolis M / Een speculatief vat vol verhalen – Een gesprek met Max Pinckers
de Volkskrant / Met fotografie herstelt de Belgische fotograaf Max Pinckers de geschiedschrijving
ATV / 100% Cultuur: aflevering 11
De Morgen / Kunst bleek een uitstekend knuffelcontact: dit zijn de 10 beste expo's van dit jaar
The Elephant / Unhistories, Part III – Kenya's Mau Mau: Resistance, Mass Graves and Compensation
The Elephant / Unhistories, Part II – Kenya's Mau Mau: Detention Camps and Torture
The Elephant / Unhistories, Part I – Kenya's Mau Mau: A Walk Through the Archives
De Standaard / 'We geloven niet wat we zien, we zien wat we geloven'
HLN / Fotografen Pinckers en Amouzou reisden naar andere kant van de wereld tijdens pandemie: FoMu stelt hun werk nu tentoon
De Morgen / Belgisch fotograaf Max Pinckers: 'Een foto vertelt helemaal niets'
Shoot / Hannibal Books brengt eerste overzichtswerk van Max Pinckers
Openbaar Kunstbezit Vlaanderen / Fotograaf Max Pinckers gaat solo in Antwerpse FOMU
Mister Motley / De jurk als onheilsbode
The Photograph as Contemporary Art by Charlotte Cotton, Thames & Hudson, 2020 / Cover image
image/con/text: Documentary Practices Between Journalism, Art and Activism
Ostkreuzschule (Berlin) .lab fotoblog / Ein schönes Bild – Teil 1
Nearest Truth Podcast / A conversation between Brad Feuerhelm and Max Pinckers
SPE-MNF / Max Pinckers's Presentation at the SPE-MNF Photography Education Symposium, Delhi, India, January 2020 on YouTube
Paola Rigamonti / Documenting Reality in the Digital Age
Aesthetica Magazine / Illusory Narratives: Interview with Sarah Allen
Museé Magazine / Triggered!: Max Pinckers
Leica Vietnam / Photography Talkshow 'Vision, Approach and Portfolio by Max Pinckers' on YouTube
Unseen Platform / Red Ink - Max Pinckers
LensCulture / Book Review: The Only Thing You Can't Get Is Red Ink
photo-eye Blog / Book of the Week: Selected by Owen Kobasz
50mm Vietnam / Nhập môn ảnh bộ với Max Pinckers cùng Leica Vietnam
Female Magazine Singapore / Max Pinckers: The Artist Questioning What We Know Of Photography
The Westphoto Podcast / PISODE 11: Interview with Max Pinckers
Punto De Fuga / Max Pinckers, Palimpsesto, 2019
British Journal of Photography / Photo London 2019
Collector Daily / Max Pinckers, Red Ink
Scena 9 / Să fotografiezi minciuni, ca să înțelegi mai bine adevărul
Photolux Festival / Il Doppio Specchio Di Pinckers. Ambiguità Dell'immagine, Ambiguità Del Reale
Chosun / "아직도 궁금해요, 그날 평양은 과연 진짜였을지"
photo-eye / Best Books of 2018
AnOther Magazine / A Hyperreal Look at Everyday Life Inside North Korea
Leica Camera / LOBA 2018 Winner Max Pinckers
LensCulture / Margins of Excess
IGNANT Magazine / America's Post-Truth Era, Captured By Max Pinckers
GUP Magazine / Margins of Excess & Red Ink
Revista Old / Max Pinckers: Margins of Excess
Huck Magazine / A photographer's portrait of America in the post-truth era
American Suburb X / Max Pinckers Interview: On Speculative Documentary
British Journal of Photography / Max Pinckers tracks the Margins of Excess between truth and fiction
Libération / Le succès de l'imposture, vu par Max Pinckers
JOIA Magazine / Entrevista a Max Pinckers: "Quiero que la gente se plantee como las imágenes les hacen creer en algo que puede no ser verdad"
Yogurt Magazine / Margins of Excess by Max Pinckers
Clavoardiendo Magazine / Max Pinckers gana la primera convocatoria de GETXOPHOTO con Un trabajo sobre noticias falsas
It's Nice That / Private detectives and helium balloons: photographer Max Pinckers steps into five imagined realities
Collector Daily / Max Pinckers, Margins of Excess
C41 Magazine / Reality and fiction have become the same thing: the six stories of Max Pinckers
Witness: World Press Photo / The camera that produces perfect pictures
Leica Fotografie International / Pinckers trifft auf Bischof
The Heavy Collective / Q&A: Max Pinckers – Margins of Excess
PHmuseum / A Documentary about Imagination
CNN Stlye / How photographers use lies to expose the truth
Self Publish, Be Happy / Margins of Excess by Max Pinckers
Harper's Magazine / The Newlyweds
BRUZZ Magazine / Max Pinckers: Deus ex Magnum
Rivista L'Espresso / Pyongyang, la vetrina di grattacieli e smartphone del regime nordcoreano
Revista Globo / Um retrato da Coreia do Norte como ela é: uma peça de publicidade
American Suburb X / Trophy Camera: A New Fear of Organizing Principals
The New Yorker / The Risk of Nuclear War with North Korea
British Journal of Photography / Book: Lotus by Max Pinckers and Quinten de Bruyn
Petapixel / This AI-Powered Camera Only Shoots 'Award-Winning' Photos
Co.Design / This Camera Silently Judges Your Photos Against The World's Best
VICE Magazine / Met deze camera schiet je altijd een World Press Photo-waardig plaatje
Magnum Photos / Finding Your Documentary Photography Style
De Tijd / De realiteit bestaat niet
Polka Magazine / Après Hokusai et Jeff Wall, le Japon raconté par Max Pinckers
Collector Daily / Lotus, by Max Pinckers and Quinten De Bruyn
THISISPAPER / Max Pinckers: Two Kinds of Memory and Memory Itself
TIME Lightbox / Truth and Fictions in Everyday Japan
Creative Boom / New Blood. Superb works from some of the world's best emerging photojournalists
Aperture / From the Outside In by Stanley Wolukau-Wanambwa
The Culture Trip / Max Pinckers: A New Approach To Documentary Photography
Rivista Studio / Love Commandos
Vice / Two kinds of Memory and Memory Itself
L'Oeil de la Photographie / 2015 Magnum Nominees: The Future of Photojournalism
Canvas / De Rebellen
TIME Lightbox / Magnum Photos Adds Record-Breaking Number of New Members
The New Yorker / Love in India
The Daily Observer / Chobi Mela: A carnival mood engulfs city
Paper Journal / Lieko Shiga's RASEN KAIGAN | album, selected by Max Pinckers
Caravan Magazine / At First Sight
The Guardian / India's Love Commandos – and the runaway couples they protect
Tasveer Journal / Book Review: Will They Sing Like Raindrops or Leave Me Thirsty
The Indian Express / A Song of Love
Financial Times / Self-publishing: DIY photography books are the rage
H-ART Magazine / Max Pinckers en Gauthier Oushoorn filmen hun tentoonstelling
FT Magazine / Self-publishing: DIY photography books are the rage
Colin Pantall's blog / Documentary Photography and the Dinosaurs
Photobook Store Magazine / Control Order House by Edmund Clark, reviewed by Max Pinckers